Hello, This is Bogowonto Train Schedule From Jakarta to Yogyakarta vv. Bogowonto train linking Jakarta to Yogyakarta start from Pasarsenen Stations and Lempuyangan Stations as last destination. This train serve economy class or third class train, tha each couch consist of 80 seats. Depart from Pasarsenen 21.45 West Indonesia Train and Arrive at Lempuyangan Stations 05.55 West Indonesia Time. You can visit object of tourism over Yogyakarta such as Malioboro, Keraton and so on. Bogowonto train will stop at Cirebon Prujakan, Ciledug, Purwokerto, Kroya, Gombong, Kebumen, Kutoarjo, Jenar, Wates, Yogyakarta, Lempuyangan. To see more detail, please read the timetable below :
Train Number 162
| | | |
| --- | --- | --- |
| STASIUN | KEDATANGAN | KEBERANGKATAN |
| PASARSENEN | – | 21.45 |
| CIREBON PRUJAKAN | 00.34 | 00.50 |
| CILEDUG | 01.14 | 01.16 |
| PURWOKERTO | 02.49 | 02.57 |
| KROYA | 03.24 | 03.32 |
| GOMBONG | 03.57 | 03.59 |
| KEBUMEN | 04.18 | 04.20 |
| KUTOARJO | 04.44 | 04.48 |
| JENAR | 05.00 | 05.02 |
| WATES | 05.19 | 05.21 |
| YOGYAKARTA | 05.47 | 05.51 |
| LEMPUYANGAN | 05.55 | – |
---
Train Number 161
| | | |
| --- | --- | --- |
| STASIUN | KEDATANGAN | KEBERANGKATAN |
| LEMPUYANGAN | – | 09.00 |
| YOGYAKARTA | 09.04 | 09.08 |
| WATES | 09.34 | 09.36 |
| JENAR | 09.53 | 09.55 |
| KUTOARJO | 10.07 | 10.10 |
| KEBUMEN | 10.36 | 10.38 |
| GOMBONG | 10.56 | 10.58 |
| KROYA | 11.22 | 11.28 |
| NOTOG | 11.45 | 11.54 |
| PURWOKERTO | 12.05 | 12.12 |
| CILEDUG | 13.45 | 13.47 |
| CIREBON PRUJAKAN | 14.11 | 14.30 |
| HAURGEULIS | 15.31 | 15.33 |
| JATINEGARA | 17.11 | 17.13 |
| PASARSENEN | 17.22 | – |
---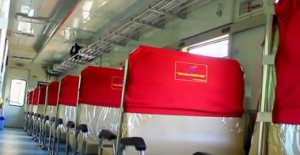 This is example seats Bogowonto train, each of couch consist od 80 seats or passenger. The formation is 2-2 face to face with other passenger, different with economy train with 106 seats per couch.
Bogowonto Train tickets can be booked online at Tiket.com/kereta-api Or Tiket.kereta-api.co.id. You Can book 90 days earlier.
Bogowonto Train Ticket based on subclass C IDR 220.000, P IDR 200.000, Q IDR 165.000 and S IDR 150.000.
Bogowonto Train is one option of Train From Jakarta to Yogyakarta, for other option you can use Progo Train, see the schedule : Progo Train Schedule .